Background
I am a wildlife forensic scientist and conservation geneticist and a senior science leader. I currently hold the role of Chief Scientist and Associate Director of Science at the Smithsonian, National Museum of Natural History.
My research career has focussed on using genetics and genomics for conservation of wildlife and I currently hold the titles of Adjunct Professor at the University of Sydney and Conjoint Professor at the University of New South Wales, and International Collaborator at Kyoto University. I was also awarded the title of Australian Museum Honorary Fellow in 2020.
My early work at the Australian Museum involved developing the field of 'wildlife forensics' and starting the Australian Centre for Wildlife Genomics. I have been fortunate enough to utilise my genetics training with the museum's extensive natural history collections in order to assist in wildlife investigations. Later becoming the field of wildlife forensic science.
In a world-first, I also established the Koala Genome Consortium in 2013 with the goal of sequencing the genome of the koala so it could be used for the management of this iconic species. In 2018, along with many international collaborators our findings were published in Nature Genetics and continue to be used in on-ground management of this endangered species.
I am deeply passionate about being a STEM (science, technology, engineering and mathematics) leader, being an active part of a STEM-literate society, reducing the illegal wildlife trade and the importance of science for conservation.
My research career has focused on using genetics and genomics for conservation of wildlife, where I have established several genomics focused initiatives.
I am deeply passionate about wildlife conservation, reducing the illegal wildlife trade and the importance of STEM, particularly women in STEM, in early and lifelong education in contributing to positive environmental outcomes.
As the inaugural Director of the Australian Museum Research Institute and Chief Scientist, I was the first female science director in the Museum's 191-year history. I am one of 28 individuals certified as a wildlife forensic scientist globally, and am one of only two experts appointed by the Federal Environment Minister as an examiner in wildlife forensics under the Commonwealth legislation.
As AMRI Director, I was responsible for strategic planning and management of the scientific research, citizen science, and natural science collections of the Australian Museum. I was instrumental in establishing the Museum as a global leader in the field of wildlife forensic science and applied conservation genomics including strong translational research with direct links to industry. The Koala Genome was my flagship project and as chief investigator, has significantly advanced scientific knowledge and contributed to management recommendations for this iconic Australian species. I am frequently invited to present my research both in Australia and overseas and regularly present to students and the public on the importance of conservation research, wildlife forensic science and the key roles that museums can play in making a difference through their science.
Awards and Recognition
Awards:
2020 Member of the Order of Australia (AM) for 'significant service to wildlife forensic science, and to young women scientists'
2018 Eureka Prizes 'AMRI Medal' recognizing research excellence
2017 inaugural 30 'Superstars of STEM' by Science and Technology Australia
2016 Awarded a Chief Executive Women Scholarship to attend the INSEAD graduate business school, Singapore
2016 University of Sydney Faculty of Science Alumni Award for Professional Achievement
2012 Australian New Zealand Forensic Science Society NSW Branch "Rebecca Kendrew Memorial" award recognising excellence in the forensic sciences.
Recognition: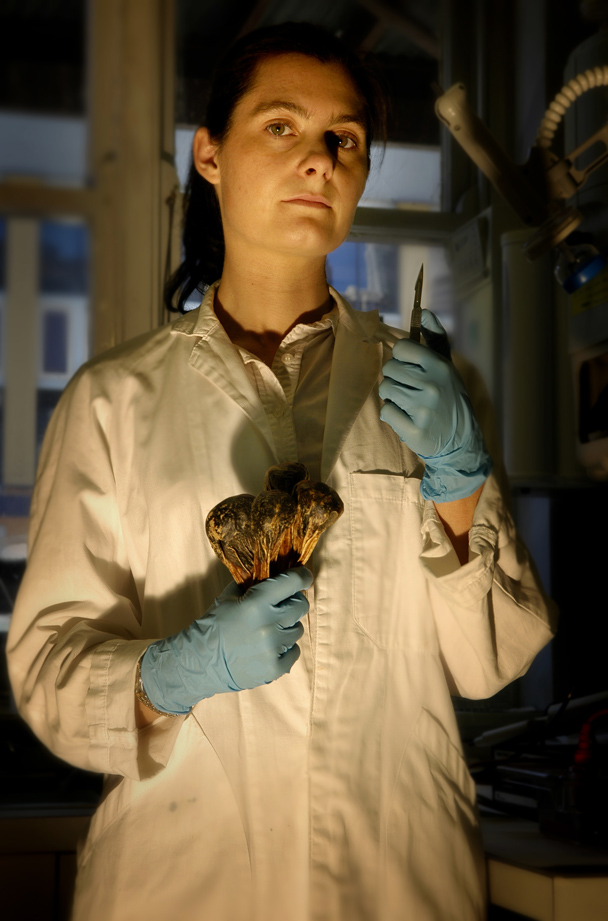 Qualifications and Appointments
Qualifications:
Bachelor of Science (Hons) from the University of Sydney, Australia
PhD (molecular evolutionary genetics) from La Trobe University Melbourne, Australia
Appointments:
Chief Scientist, Smithsonian National Museum of Natural History, Washington, D.C. USA
Honorary Fellow of the Australian Museum (2020)
Certified Wildlife Forensic Scientist #124
Fellow, Royal Society of NSW (since 2016)
Professor (Adjunct) University of Sydney
Professor (Conjoint) University of New South Wales
Professor Kyoto University
Member of to the Australian Academy of Forensic Sciences (since 2014)